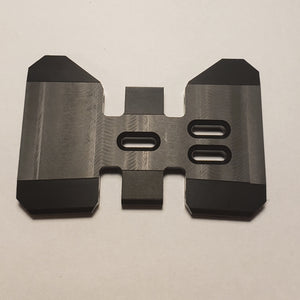 STANDARD TGH 3 HOLE TRANSMISSION MOUNTING PATTERN
APPROACH AND DEPARTURE FACES ANGLED TO REDUCE HANGUPS ON ROCKS
M3X12 SS MOUNTING SCREWS AND M3X20 A2 HARDENED SET SCREWS FOR LINK POCKETS INCLUDED
High quality
Came exactly as pictured, no damage or flaws, fast shipping and updates.
TGH V2 SLOTTED DELRIN SKID
TGH V2 Skid
Seems to be a good skid and fits the TGH 2Low transmission perfectly except the transmission does need spaced up a good bit to keep the driveshafts from rubbing the skid. So far it's been excellent for my Gspeed/TRX4 build. TGH has great products. I will be buying more in the near future.
5 stars all the way
This is a great fit and finish for my flat rail setup quality product
Great Fit
Being the owner of the Barbarian Scaleplex, I am all ways looking for a new build to do. So when a TGH transmission came into my possession, Time to build lol. The TGH V2 Slotted Delrin Skid fit perfect and made setting the transmission very easy. I bought a set of wheels in blue to match the tranny. I have 3 sets of your Capra wheels now . LOVE THEM!!